Yukio Okumura
Talk

2
270pages on
this wiki
"
From... from now on... I will protect my brother in Father's stead.
"

—Yukio's resolve
Yukio Okumura
Kanji

奥村 雪男

Rōmaji

Okumura Yukio

Characteristics

Race

Half-Demon

Gender

Male

Age

15

Height

5'11"

Weight

145 lbs.

Birthday

December 27th, 1995

Hair Color

Brown

Eye Color

Blue

Professional Status

Affiliation
Occupation

Exorcist
Teacher
Student

Partner(s)

Shirō Fujimoto (former)

Base of Operations

Exorcist Information

Class

Middle First Class Exorcist

Meister
Weapon(s)

Guns

Personal Status

Status

Active

Relative(s)

Shirō Fujimoto (Adoptive Father)
Satan (Father)
Yuri Egin (Mother)
Ernst Frederik Egin (Grandfather, anime-only)
Rin Okumura (Brother)
Mephisto Pheles (Half-Brother)
Amaimon (Half-Brother)
Lucifer (Half-Brother)

Debuts

Manga Debut
Anime Debut

Portrayal

Japanese Voice

Jun Fukuyama

English Voice

Johnny Yong Bosch

Image Gallery
Yukio Okumura is one of the main protagonists in Ao no Exorcist. He is Rin's younger twin brother. A straight arrow and kind-hearted by nature, his goal is to become a Doctor. Unbeknown to his brother, he is a brilliant Exorcist - the youngest in history - in short, a genius. His abilities are gradually unveiled during his time at the Exorcism Cram School and is now an Exorcist teacher.
Appearance
Edit
Like his mother, he has a chocolate-brown hair and turquoise eyes. He also has three moles on his face (yet another trait he inherited from his mother, Yuri ) and wears glasses (that's why Rin calls him Spotty-four eyes). In the first episode, Yukio wears a plain shirt with a beige cardigan. Later on in the series, Yukio has an Exorcist coat that he wears over a white dress shirt and black dress pants. Over his coat he has a leather pallet of bullets and his guns. He has black leather shoes. His guns are Springfield M1911A1 Champion pistols, both black with a glossy wood side cover on handle, and the True Cross insignia engraved into the slide.
In the anime, he is seen with a mysterious black mark on the underside of his left arm that is now starting to spread throughout his body. This may have something to do with his original birthright as Satan's son and the Demonic powers he was supposed to have shared with Rin as Yukio was shown preforming his daily testing and it reacted, but the mark was never fully explained in the anime (though Shura appeared to be alarmed by the sight of it).
As of the last episode, Yukio's mark has spread all the way down passed his elbow.
In the anime, since awakening his Demonic powers in episode 22, Yukio now possesses the same Demonic features as his brother, Rin when in their human form (e.g. the slightly pointed ears and sharper canines). When in his Demon form, he too has a blue flame, elf-like ears and fangs.
Personality
Edit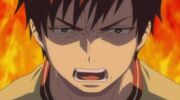 Yukio is mostly seen as quiet and calm, yet he is somewhat bi-polar. He is usually seen happily smiling, but can easily get sidetracked due to Rin's personality clash, and becomes rather dark. He takes things seriously, but knows a joke when he hears one.
On few occasions he is shown to have a very aggressive side. If he is pushed too far, he can gain a fiercely angry personality. His angry side is so intense that it frightens Rin when it makes itself known. This may be as a result of his Demonic heritage even though he didn't acquire Satan's flames like Rin. He is a big worrywart and often overthinks about situations. He is often seen sleeping anywhere like a chair or on his desk while thinking.
He doesn't like to partake in 'unseemly' actions. He is usually punctual and lectures Rin on how to behave. He has good control over his anger and tries his best to be calm and composed.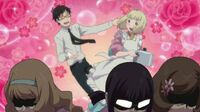 According to the Ao no Exorcist Guidebook, Kazue Kato said that originally, Yukio and Rin weren't Exorcists, but anti-paranormal agents who exterminated supernatural creatures.
He is popular with girls, though he finds it difficult to reject them.
Favorite food is seafood, especially sashimi.
His known pastimes are: formulating plans and reading Jump Square every month.
His favorite manga genres are: comedy, horror, suspense.
He averages 4 hours of sleep each night.
He is ranked 5-6th on Rin's 'cool dude' list which is the same rank as Kuro, Rin's familiar.
He is embarrassed and extremely bothered by how many moles he has.
Yukio is ambidextrous.
The original concept had Yukio and Rin's names switched around, therefore, his name was Rin. His hairstyle was also similar to Rin's.
Kazue Kato intended on giving him stress-related asthma, making him always having an inhaler around. This concept had him slightly psychic and sometimes prescient. It is also said that he was supposed to be interested in computers and a feminist.
The English translation of Volume 2 mistakenly states that Yukio has a Meister in Dragoon and Aria, rather than Dragoon and Doctor.
(To Rin) "... if you truly have the nerve to feel that way... then you should give yourself up to the order Headquarters... or just die please."
(To Mephisto Pheles) "From... from now on... I will protect my brother in father's stead."
References
Edit