Hello, I'm ihathann and welcome to my profile. Most people call me ihathann but since your reading this you can now forever call me Hannah!

Please Leave Me a Message on My Talk Page!!! Ihathann

Reference every page
Add Anime Photo Gallery and Manga Photo Gallery
Summarize every Episode
Update Characters Plot

Get 1,000 edits
Add English voice actor pages
2,000 edits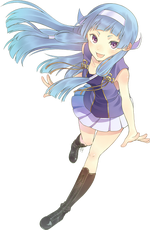 Hello I am ιнαтнαии! You will mostly see me at anime wikis. My Main Page is at aonoexorcist wikia (this wikia) and I am a Admin of this wiki. I love to get messages and will reply to any you give me. I will try to get back to you asap. I do most of my edits on my IPad 2 and love it!! I'm good with templates and can help do profiles. A Little More About Me: I'm from Texas and live in the music capital of the world (Austin). I love drawing and like to go study templates, plus I'm good with people. I love to edit on my IPhone 5. I love movies and TV. I love to make jokes and I'm known best for my humor by my friends. My music taste is very weird -.- Like I listen to K-pop, J-pop, pop, rock, punk, and post-heavy metal hard core. Weird huh?
Edits of

Ihathann

on Ao No Exorcist Wiki
Total:
1,212
Article:
746
Talk:
11
User:
135
User talk:
0
Project:
32
File:
170
File talk:
0
Template:
20
Template talk:
0
Category:
11
Category talk:
0
Forum:
0
User blog:
8
User blog comment:
14