True Cross Order
Talk

0
268pages on
this wiki
The True Cross Order is the organization of Exorcists primarily featured throughout the plot. They are seemingly controlled by the Vatican.
Order is a large organization of Exorcists that has been seemingly fighting Demons and Satan for the last 200 years (as hinted by Mephisto). It has branches throughout the world, each managed by a "Director" or "Branch Managers"
It is unknown what the True Cross Order's actual goals are, as they haven't been stated clearly yet. However, given that they have been defending humankind from Demons for roughly 2000 years, it can be assumed that the Order both trains Exorcists and exorcises Demons themselves. In addition, the Order takes it upon itself to heal humans who have been harmed by Demons. It seems that, judging by Mephisto Pheles' comments during Rin's trial, the True Cross Order has been on the defensive side throughout the entire war on Demons. However, the prospect of Rin, the son of Satan who has inherited Satan's blue flames, it can be assumed that the Order is trying to develop a way to defeat Satan.
Organization
Edit
Structure
Edit
Main article: Exorcists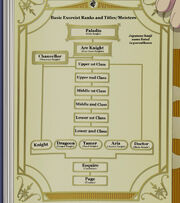 The True Cross uses titles to rank its students and Exorcists. When an Exorcist-in-training enters the True Cross, they are called a Page. This is the lowest rank. A student can take the Exwire exam and become a Meister in different fighting styles. Ranks following are Lower 2nd Class, Lower 1st Class, Middle 2nd Class, Middle 1st Class, Upper 2nd Class and Upper 1st Class. Ranks even higher than a regular Exorcist are the Chancellor, Arc Knight and the highest rank of all: Paladin .
Recruitment
Edit
Organization
Edit