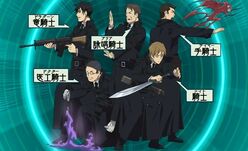 A Meister is someone who has the knowledge to become an Exorcist. Acquiring the title of Meister is essentially the most basic qualification for becoming an Exorcist. There are five categories of Meister: Knight, Dragoon, Doctor, Tamer, and Aria. The difference between the categories is their style of fighting.[1]
Knight
A Knight (騎士, ナイト, Naito) is a Meister that uses swords to fight Demons. Some Knights use enchanted Demon blades; Demon blades have unique abilities and are quite rare. Other Knights are also able to use powerful, long range magic techniques from their blades.[2]
Dragoon
A Dragoon (竜騎士, ドラグーン, Doragūn) fights using ranged weapons such as handguns and machine guns. Some may use specific weapons or ammunition to exploit the weaknesses of certain elemental demons.[2]
Doctor
A Doctor (医工騎士, ドクター, Dokutā) is a Meister with the ability to treat and heal wounds inflicted by Demons; these wounds are known as mashō. These people typically possess the knowledge of basic first-aid, emergency first-aid, and the ability to treat ordinary injuries.
Tamer
A Tamer (手騎士, テイマー, Teimā) has the ability to summon and control Demons known as familiars. It is a natural talent that few people possess.[3]
Aria
An Aria (詠唱騎士, アリア, Aria) fights by reciting verses from the Bible and sacred scriptures. Aria specialize in knowing Fatal Verses which, when recited, exorcise specific Demons.[2]
References
↑

Ao no Exorcist Manga: Chapter 5, Page 7

↑

Ao No Exorcist Manga: Chapter 5, Page 11