Shura Kirigakure/Abilities
Talk

0
267pages on
this wiki
Powers & Abilities
Edit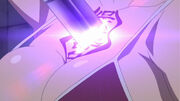 Shura is a powerful Exorcist, noted to be an excellent wielder of the sword. She fights using Kirigakure Ryū - Makengi (Hidden Mist Style - Demon Blade Technique). As she was chosen to be the apprentice of Father Shirō Fujimoto when she was child, it can be assumed that she had a great deal of potential already back then. Shura keeps a Demon sword in a symbol above her chest that she can summon when she says, "Devour the Seven Princesses, slay the Serpent."
Shura is also noted to have a Meister in the Doctor class, but she states that she is not a conventional doctor. It is unknown what she means by this.[1]
Miscellaneous Skills
Edit
Shura has some talent in sealing, as she was able to seal Rin's Demon stage through chanting sutras. Additionally, she is able to seal both Rin's Komaken and her own blade in her abdomen and chest, respectively. Likewise, she can also use high-level barrier techniques in conjunction with her familiar that could prevent one of the Demon Kings,
Amaimon
, from breaching it.
Dabō (Serpent Fang)
Edit
Dabō
(lit.
Serpent Fang
): Shura launch projectiles made of air slices at the opponent.
Gara Gara (Absolute Emptiness)
Edit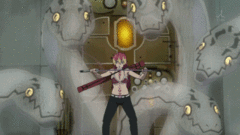 Gara Gara
(lit.
Absolute Emptiness
): This technique causes the enemy to lose it's Demonic power, as used against Rin in the Great Cell. When the snakes pass over the enemy, the enemy loses its Demonic power and traits like regeneration.
Kirigakure Ryū-Makengi - Hebiransu
Edit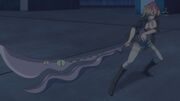 Hebiransu
(lit.
Snake Lance
): This technique transforms Shura's Demon sword into a longer form with a wavy edge, much like the curves of a snake. In addition, the area near the tip of the blade gains an eye. This technique requires blood to be spread along the blade of the sword.
Familiar spirit
Edit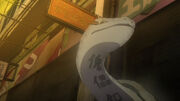 Shura was seen to be able to summon a familiar that resembled a snake. It can apparently locate people, as he was able to find
Michelle Neuhaus
in
Shiemi
's secret garden. Shura gave a seal that glows red when near the familiar to Rin when they are trying to find Michelle. Another Snake familiar spirit was shown in the manga, instead it had heart markings and was capable of speech. It was used in the Kyoto Arc to assist
Yukio Okumura
and the Exorcists in the tracking of
Saburōta Tōdō
and the Left Eye of the
Impure King
.
Shura is capable of suppressing Demons effectively by chanting mantras such as the 'Rokuji Myouou' which she uses to calm down Rin when he gets enraged during the Impure King incident. 
References
Edit
↑

Ao no Exorcist, Volume 4, Chapter 15, Page 45