Shiemi Moriyama
Talk

2
267pages on
this wiki
"
I can't be like this, always crying like that. I've got to become even stronger and more resilient. I've still a long way to go before I attain a weed's spirit. I'll definitely catch up, so just wait for me.
"

—Shiemi's resolve
Shiemi Moriyama
Name
Shiemi Moriyama
Kanji
杜山 しえみ
Romanji
Moriyama Shiemi
Characteristics
Race
Human
Birthday
May 11th
Age
15
Gender
Female
Height
165 cm (5'5")
Weight
49 kg (108 lb)
Eyes
Green
Hair
Blonde
Blood Type
B
Professional Status
Affiliation
Exorcists
Occupation
Shopkeeper of the Exorcist Shop
Personal Status
Status
Alive
Exorcist Status
Class
Exwire
Meister Type
Tamer, Doctor
First Appearance
Manga Debut
Chapter 3
Anime Debut
Episode 4
Voices
Japanese Voice
Kana Hanazawa
English Voice
Christine Marie Cabanos
Shiemi Moriyama is one of the side characters of the series. She is an Exwire at the True Cross Academy, and is training to be a Tamer.
Appearance
Edit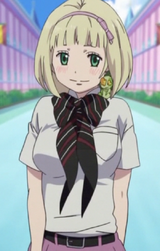 Shiemi has straight, shoulder length platinum-blonde hair (though her hair is simply blonde in the anime), green eyes, and fair skin. Her hair occasionally curls at the ends, and she is usually seen with a clip or headband in it. In the manga, her hair is much lighter than the anime, appearing almost white at times. In her initial appearance, Shiemi wore brightly colored kimonos with equally colorful kimono coats and traditional Japanese sandals. After joining the
Exorcist
Cram School, she changes into the school uniform, which consists of black shoes, a short, pink skirt with a black belt, tight white thigh highs, and a white colored shirt. She also wears the female version of the school tie, which is tied with a large bow. Shiemi also has noticeably large breasts despite her figure, which shocked all of the guys when they first saw her in the school uniform as the kimonos she usually wore concealed her figure. 
Personality
Edit
When she first appeared, Shiemi was very shy and quiet at school. This is because when she was younger she was awfully shy and sick, so she wasn't able to attend school, which made it hard for her to have friends of her own age. Her love for her late grandmother made her want to never leave her garden. She is also naive - most of her life was spent within the premises of her home, therefore she is rather clueless when it comes to typical adolescent experiences.
However, she is incredibly loyal, patient and hardworking; she would do anything for her friends, even if doing so would make feel others uneasy. In one episode, when she aimed of having friends at school, she humbly asked Izumo then, but instead of hanging with her and have fun, her kindness unjustly used that Izuno always asks her to run errands. This did not last long since Rin enlightened her that friendship must not happen that way, respecting one another is more than loving a friend. Her exceptional kindness, immense willpower, and good nature has made her popular within the Exwires.
It is observed that Shiemi first made friends with Yukio, then Rin. In one of the episodes, she determines to herself: "I've got to stop relying on Yuki-chan and Rin all the time. Today, I'll make some friends for sure!" . She is an optimist and never gives up on her friends. She does not take criticism very seriously and always tries to help.
She has only worn traditional Japanese clothing since she was born (with the exception of occasionally the school uniform).
Her favorite food is her grandmother's herb cookies.
Her favorite pastimes are gardening, making herbal teas, naming plants and flowers, baking cookies, and lying under the sun.
She is slightly allergic to pollen.
According to the kanji used for her surname, Moriyama means "grove mountain".
In the afterword of Volume #1, Kazue Kato states that the original concept of Shiemi had been a Gothic girl living in a tower without the focus on Japanese style.
In the English scan of Ao no Exorcist Volume #1, at the end, Moriyama was incorrectly typed as Murayama.
Kazue Kato initially had Shiemi's eye color as blue. This was seen on many chapter covers and on Volume #3.
She bares quite a resemblance to Monaka Miyama-Uguisu, the girl in The Miyama-Uguisu Mansion Incident, the one shot that led to Blue Exorcist.
(To Rin) "I love this place, and I love my grandmother even more."
(To Ni-chan, her familiar) "No matter how rotten those spores are, we can make everything bloom fresh and green a thousand times greater!"
(To Rin) " I'm... such a fool. I've been so preoccupied with myself that Rin never even entered my field of vision. How could I call myself his friend? I'm sorry.. Rin."
(To herself) " I can't be like this, always crying like that. I've got to become even stronger and more resilient. I've still a long way to go before I attain a weed's spirit. I'll definitely catch up, so just wait for me."
References
Edit