Satan
Talk

0
267pages on
this wiki
"
You know, I'm a perfect entity with infinite power. But there's one thing, just one little thing, that I don't have. You know what that is?... A substance in this world of Assiah powerful enough to contain me!!! Anything I touch in this world is doomed to destruction...! Just like this body... and just like your mother! ... It's the Assiah that I want...!
"

—Satan telling Rin his goal
Satan is the ruler of Gehenna. It has been said that he is the creator of every Demon in existence. Satan wants to merge Assiah and Gehenna to make one joint world, but cannot fully exist in Assiah because there is no vessel strong enough to contain him. He is main antagonist of the story.
Appearance
Edit
Satan's true Demon form has not yet been shown, but when he possesses
Shirō
, he has typical Demon features such as pointy ears, long nails and sharp canine teeth. The possessed also shows features similar to 
Rin
's own Demonic form, these being the black tail with a blue flame at its end and blue flames covering their body. In the end of the anime he resembles a small blue flame, which may be his basic and/or true form.
[1]
Personality
Edit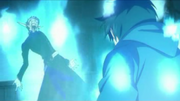 When first introduced, Satan's mannerisims and laughter bordered on that of insanity and he enjoyed it when Rin Okumura screamed for help while being sucked into the Gehenna Gate. This reveals that his cruel and reckless personality doesn't stop even before his own family. It is further emphasized when Satan said that he created Rin out of mere boredom and after that realized that Rin is exactly what he needed to conquer Assiah as Rin is a human born in Assiah who as Satan's offspring bears Satan's blood.
In the anime he is shown to have been in love with Yuri and seeking to realize her dream of humans and Demons coexisting he attempted to merge Assiah and Gehenna. Though interestingly despite clearly having loved Yuri he shows no remorse for possessing Yukio and trying to kill Rin even though Yuri loved both of her sons more than anything.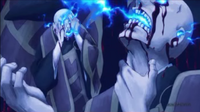 Satan had possessed and murdered a great number of powerful Exorcists; an event which would later be known as the Blue Night.[2] Around that time, Satan had used one of the bodies he had possessed to rescue Lower Second Class Exorcist Yuri Egin. After Satan apparently had intercourse with Yuri, she later gave birth to Rin and Yukio Okumura. However, only Rin inherited his father's power. He later realizes that he can use Rin to conquer Assiah.
It is later revealed that Yuri let him impregnate her because she felt sorry for him and that actually he didn't plan to conquer Assiah but uniting Assiah and Gehenna together.
Beginning Arc
Edit
After Astaroth and his army was defeated, Rin told Father Fujimoto that he should not pretend to be his father. Satan took this chance of weakness to posses Fujimoto, since at that point Fujimoto was shocked as to what Rin said. Satan then appeared and opened the Gehenna Gate in order to drag Rin to Gehenna. His plan was successful until Fujimoto took control of his body again, but Satan then stated that it was too late. Anything that gets pulled into the Gehenna Gate cannot escape. With saying that Satan lost control of Fujimoto's body. After that, Rin awakened his powers and destroyed the Gehenna Gate.
Filler arc (Anime Only)
Edit
Note: Events occurring in this arc are only in the anime and do not constitute canon material.
Click "show" to read the arc plot. 
Powers & Abilities
Edit
As the king of Gehenna, Satan is the strongest Demon in existence. His powers are not yet revealed except that he can summon the Gehenna Gate. Like any other Demon, Satan has the power to posses a human body but only for a moment as everything he touches in the world of Assiah is doomed to destruction.
Gehenna Gate
Edit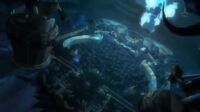 Satan has the ability to summon the Gehenna Gate; in the anime, it is implied that he's the only being in Gehenna powerful enough to summon and open the complete and full form of the Gehenna Gate, although other Demons are able to by conjuring a lesser or an incomplete version of the gate. This Demonic door needs blood in order to link Gehenna and Assiah. It's size, appearance, and even abilities depend on the amount of blood offered as a sacrifice.
(Anime only) Being his blood, Rin was sacrificed by the True Cross Order to use his blood to create a large Gehenna Gate which requires a large amount of Demon blood. Combining Yukio's blood with Rin's, the power dramatically increases, creating multiple Gehenna Gates to create a large portal to Assiah.[3]
(Anime only) After his defeat from Rin and Yukio, Satan was rejected from his vessel, but possessed and took control of Gehenna Gate, giving more abilities to send gate Demons, shoot beams from its eyes, and rise into the sky so it can attack the city. This Gate is regenerative and able to withstand Rin's flames. Its weakness however is its heart which Yukio and Rin pierce through to destroy Gehenna Gate completely.[4]
Fire Manipulation
Edit
Like Rin, Satan can control and manipulate blue flames at will. He is able to ignite his victims in blue flame by spontaneous combustion (implied to be by eye contact). He also has the ability to shoot multiple fireballs from his palm during his battle with Shura and can burn out any barrier that was created by the Exwires. When fighting Rin, he ignites him with his flames but Rin, however, appears immune to it. This was only shown in the anime.
Relationships
Edit
Rin is Satan's son born from a human mother. He created Rin merely as his tool to claim rule on Assiah (although later on in the anime, it is suggested that he did so to experience what it meant to be alive). Rin holds hatred towards his real father for the death of Shirō and strives to become the highest ranking Exorcist, Paladin, to one day defeat him. When Satan possessed Yukio, he had no need for Rin anymore and tried to dispose him believing he is the only one who can interfere with his plan since he destroyed the previous Gehenna Gate.
Technically, Yukio is Rin's twin but was too weak in the womb to support Satan's power. However, he obtained his mashou from his brother in the womb. Yukio takes daily tests, but they all show that, for all purposes, he is just a normal human. However, hints of Yukio's Demonic heritage can be shown when he is angry. Occasionally, Yukio has moments when his self-control slips and his anger peaks to that of the level of a Demon's. These moments never last long and he usually reverts back to his usual self after a few seconds.
When Yukio's Demonic power awakened, Satan used this chance to possess him, giving him the perfect vessel (in anime only).
A powerful Exorcist and Rin's guardian who Satan has been constantly attempting to possess. Shirō held onto his willpower to fend off Satan until Rin mentally harms him, using the temporary weakness in Shirō's willpower, Satan takes over his body and uses it to create the portal to Gehenna. Before he could take Rin back to his world Shirō regains control and commits suicide, severing himself from Satan.[5]
In the anime, Satan attacked Yuri and her group and she was the only one unharmed by his flames. When she finds Satan in another vessel, she feels sorry for him and lets Satan accompany her body as his vessel. Yuri states that Satan must have been happy with her as she explained to him more about Assiah and how every living thing lives and dies. During her execution, Satan possessed many Exorcists to find a vessel and save her, leading to the deaths of many - the Blue Night. Despite his malicious nature, Satan appears to have cared for and loved Yuri, wanting to save her so she can bear their children.[6] He learns of Yuri's dream to be in a world with no Assiah or Gehenna, where humans and Demons can understand each other like they do. Satan decides to make Yuri's last wishes come true by devising a plan to merge the two worlds together.
In Abrahamic Religions, Satan is the name given to a fallen angel who fell out of God's favor after waging a War in Heaven. Satan is also the personification of all things evil in the Arbrahamic Religions as he leads humanity astray with deception and temptation.
Whenever Satan possesses someone the resulting form is actually something close to what people originally believed the devil himself to look like in folklore.
In the Japanese manga, the kanji used to write Satan's name literally mean "blue flame Demon". This may be a reference to the pyrokinetic powers that he passed on to his son, Rin Okumura.
(To Rin) "Hey there, son! Doin' good? That's right, the man himself has come all the way out here just to see his cute little boy! So look happy about it!"
(To Rin ) "The name's Satan. God of the Demons, and your one and only father. You can call me 'Daddy' if you like! Gyahahahahah!!"
(To Rin ) "You know, I'm a perfect entity with infinite power. But there's one thing, just one little thing, that I don't have. You know what that is?... A substance in this world of Assiah powerful enough to contain me!!! Anything I touch in this world is doomed to destruction...! Just like this body... and just like your mother! ... It's the Assiah that I want...!"
(To Rin ) "Oh, it was out of mere boredom that I created you... but I have since realised, it was a masterstroke! You exist in the world of Assiah... and yet you bear the blood... of the god of Gehenna...! You are exactly what I need to make Assiah mine!!"
References
Edit