Renzō Shima
Talk

0
256pages on
this wiki
Renzō Shima
Name
Renzō Shima
Kanji
志摩 廉造
Romanji
Shima Renzou
Characteristics
Race
Human
Birthday
July 4th
Age
16
Gender
Male
Height
176 cm (5'9")
Weight
63 kg (138.6 lbs)
Eyes
Brown
Hair
Pink (dyed); Black (original colour)
Blood Type
O
Professional Status
Affiliation
Exorcists

Myōō Dharani Sect

Personal Status
Status
Alive
Relatives
Yaozō Shima (Father)


Unnamed mother
Take-nii Shima (Eldest brother,
deceased)
Jūzō Shima (Brother)
Unnamed brother
Kinzō Shima (Brother)
Unnamed two sisters


Exorcist Status
Class
Exwire
Meister Type
Formerly Aria, Knight as of Ch 43 (in training)
First Appearance
Manga Debut
Chapter 2
Anime Debut
Episode 3
Voices
Japanese Voice
Kōji Yusa
English Voice
Brian Beacock
Renzō Shima is a very carefree Exwire and childhood friend to Bon and Konekomaru. He is very loyal to them and they grew up in Kyoto, where the rest of his family resides. He has an obsession with women and plans on becoming a Meister in Aria. He is the 5th and youngest son of his family.
Appearance
Edit
Renzō has pink hair which is dyed while his natural hair color is black. In the manga, Renzō wears a man-tailored (flannel sort of) shirt over a t-shirt with a symbol, sort of like a bulls-eye. Renzō also carries around a monk's staff, which he and two of his brothers also have. He bears a scar near his left eyebrow.
Personality
Edit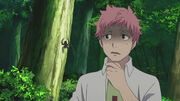 Renzō is the most carefree character out of all the other Exwires and it's shown that he doesn't act as serious as the other Exorcists in serious situations but yet has a fear of many things, mainly bugs.
He's friendly and is one of the few people who befriended Rin after finding out he was Satan's son, saying that he didn't care about it since Rin was a good person.
He's very loyal to Bon and Konekomaru as they both grew up together in the same temple in Kyoto. Though he grew up in the same "cursed" temple as Bon did, he doesn't have the same goal as Bon or seemed to be that interested in its business. He refers to everyone, even his teachers, casually and even teases them. He loves women and has a big obsession over them. He is the 5th and youngest son of his family, and tells Konekomaru he's glad of this because it means he has less responsibilities unlike Konekomaru who's the eldest. This shows that he isn't willing to take on his responsibilities and prefers to be carefree. He plans to become a meister in Aria. He refers to himself as "The Epitome of Cool".
Renzō's pastimes and talents are: smiling, lying, fake politeness, buying dirty books even if a girl is working on the cash register.
His nickname in Elementary school was the 'Erotic Demon'. He is trying to be more refined now that he is in High School.
His favorite words are 'not suitable for print'.
He spends his days off on dating girls.
His average bath time is 30 minutes.
Renzō's favorite music genres are: rock, pop, R&B, hip-hop, American/European, and Japanese.
The first half of his name, "Ren" ( 廉), means "pure/ honest". And the second half, "Zō" (造) means "structure"
References
Edit