Page
Talk

4
256pages on
this wiki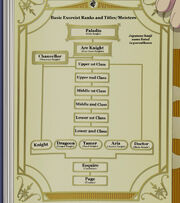 Page is the lowest rank in the True Cross Order.
Description
Edit
Pages are entry-level members of the True Cross Order. Page-level individuals tend to vary greatly in their knowledge and experience concerning demonology: ranging from absolutely zero knowledge of demons (e.g. Rin Okumura) to those who have some training (e.g. Ryuji Suguro).
All pages seen in the series have attended the Exorcist Cram School at the True Cross Academy campus located in Japan. Under the disguise of normal students, Pages learn the most basic elements of Exorcism, ranging from Anti-Demon Pharmacology and Holy Scripture studies to Physical Education. Additionally, if a page has not obtained a Mashō, a trained exorcist will assist in obtaining one.
If a Page is deemed qualified enough to advance to the next rank, an Exwire Authorization Exam is organized. Basic Exorcism skills are tested, as well as the Meister the Page wished to specialize in.
Individuals of Page Rank
Edit
Page is defined as an attendant of a person in rank. The term was used in the Middle Ages.
References
Edit