Noriko Paku
Talk

0
267pages on
this wiki
Noriko Paku
Name
Noriko Paku
Kanji
朴 朔子
Romanji
Paku Noriko
Characteristics
Race
Human
Age
16
Gender
Female
Height
164 cm (5'4")
Eyes
Purple
Hair
Brown
Professional Status
Previous Affiliation
Exorcists (former)
Personal Status
Status
Alive
First Appearance
Manga Debut
Chapter 2
Anime Debut
Episode 3
Voices
Japanese Voice
Takahashi Ao
English Voice
Cassandra Lee
Noriko Paku is a student of the True Cross Academy, as well as a former member of the True Cross Exorcist Cram School.
Appearance
Edit
Paku has short brown hair and small purple eyes. She's rather ordinary in appearance and wears the standard school uniform during her classes.
Personality
Edit
Paku is portrayed as fairly soft-spoken, considerate, and possesses a benevolent nature. Even as a child, she has shown prominent signs of her kindness by befriending Kamiki despite what others might think of her. She does not seem to be at all confident in her capabilities as an Exorcist, which is why she admires Kamiki for being such a skilled and talented student. Paku has a strong sense of justice when it comes to friendship and was disappointed when Kamiki was making a fool out of Shiemi, as she only wanted to be their friend.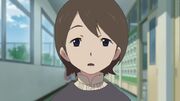 Paku appears to have met Izumo in elementary school. She saw Izumo carrying a stack of boxes and offered to help since they were on the same school committee. Despite Izumo's warning that offering assistance would only cause others to make fun of Paku, she shares Izumo's load and claims that she doesn't care what others think. Izumo even tries to warn Paku that she has a rotten personality, but Paku says that that doesn't matter either. This seems to have spawned a friendship between the two and they continue to be friends to this day.
True Cross Academy arc
Edit
She is never seen Demonstrating any Exorcist abilities and is always hanging out with Kamiki. When Kamiki made Shiemi her slave, Paku was actually concerned about this and told Shiemi that she has the option to refuse what Kamiki tells her to do. To her surprise, Shiemi happily states that she wants to do these things because she likes helping her friends. When both Paku and Kamiki went to take a bath, Paku confronts Kamiki about how she's been badly treating Shiemi like a slave and tells her she's not a true friend. She also announces her resignation from the cram school classes because she cannot keep up with the classes any longer and she does not think she has the will to fight for her life if she were in danger.
They are afterwards attacked by a Ghoul, which severely burns Paku's arm. Kamiki tries to defend her by summoning her familiars, but was unable to do so due to her conflicting feelings. Rin and Shiemi arrive just in time for Shiemi to treat Paku's Masho with an Aloe plant produced by Shiemi's greenman . After all the events that had occurred, Paku genuinely thanks Shiemi for tending to her wounds. The next day, Rin, Kamiki, and Yukio visit her to see how she's been doing, with Yukio telling her that she has to stay in bed for about two to three more days so that her fever will go down. When Kamiki and Paku are left alone, Kamiki apologizes to Paku for not being a better person and blames herself for Paku's leaving the school. Paku reassures her that she's quitting the cram school on her own volition and it does not change the fact that the two of them are friends. She also tells her that she should not change because she likes Kamiki the way she already is.
Despite quitting the cram school, she continues to attend True Cross Academy with Izumo. She still remains firm friends with Izumo as the two have made up.
Filler arc
Edit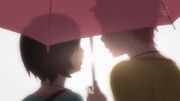 Paku makes a comeback when Renzō asks her to help him buy a gift for Izumo. This causes a misunderstanding, as Izumo believes that the two are dating, much to her annoyance. Paku then argues that she had "something in her eye", and so Renzō leans down to get a better look, and it looked as if the two were about to kiss, and so Izumo jumped right in and cut them, revealing the surprise.
Later, after the Gehenna Gate was created and the evil coal tar were released, she is seen in a dorm room with three other girls. She tells one of them, who is crying, not to worry because help is on the way. Not long after that, the window breaks and the coal tar get in. She and the other girls scream in terror, but the coal tar are momentarily driven away by one of Izumo's byakko and Ryūji's chanting. Izumo, Ryūji, Konekomaru, and Shima get them into the doorway to the True Cross Center and close it behind them.
Izumo happily joins with Paku, who tells her that she was not afraid, because she knew that Izumo was going to help her.
Powers & Abilities
Edit
Paku has no known combat or exorcism skill. The only ability she has is the capability to see Demons due to the Mashō she received at the start of her short time in cram school.
Relationships
Edit
After the ghoul incident, while talking to Izumo, she states that she thinks Rin is cool. This may hint that Paku has a slight crush on Rin or that she simply admires him. This might also be due to the fact that Paku wants to spark Izumo's interest within Rin, as she knows her friend might have a "thing" for him.
During their childhood, Paku was the only person who was willing to be friends with Kamiki, despite the rumors about her. She is close to Kamiki, but will criticize her actions if warranted. Paku seems to really think of Kamiki as a good friend and did not even blame her for the incident regarding the Ghoul.
There really has not been much interaction between the two, but it's evident that Paku considers Shiemi a good friend. While Kamiki disliked the idea of being friends with her, Paku actually displayed hints of concern and sympathy for Shiemi when Kamiki was treating her like a slave. She even stood up to Kamiki because of the negative way she's been acting with Shiemi. At the end of Chapter 5, Paku extends her heartfelt gratitude towards Shiemi for tending to her wounds, by sincerely thanking her as a friend.
Renzō Shima
Edit
Renzō constantly flirts with Paku, despite Izumo stopping him every time. Paku then helps Renzō buy a gift for Izumo, and she admits that he is a "great guy" despite Izumo constantly warning her about his antics. The two looked as if they were a couple, to Izumo, and that they had "kissed" (although it was all a misunderstanding in the end).
Paku speaks very softly and moves at her own pace.
Sometimes when she's alone with Izumo, she'll do a strange dance.
Her pastimes and talents are reading classic novels, and looking for cafes and shops with nice atmospheres.
Her average bath time is 40 minutes.
Her favorite word is 'macaroni' just because she likes the way it sounds.
Her favorite genres of music are American/European and Jazz, as well as old Japanese popular music.
She spends her days off going back to bed and reading novels in her favorite cafes.
Paku's name, "Noriko" (典子), means "lawful child".
She was the weakest student in the cram school before quitting, having Demonstrated no abilities at all.
She is the shortest female student (164 cm / 5'4").
She is also the oldest person in her class.
References
Edit