Naoto Fukada (深田 直人 Fukada Naoto) is a Middle First Class exorcist of the True Cross Order.
Appearance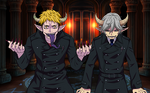 Naoto is a young man with pale skin, dyed blond hair and brown eyes. He has multiple piercings with a stud in each eyebrow and two rings in each ear. He wears the typical uniform of an exorcist with the collar turned up over a red shirt.
Personality
Synopsis
Meister & Abilities
Naoto seems to possess the skills of a Tamer, summoning multiple low-class Naberius in combat.[1]
Spectral Awareness: As he is an Exorcist, Naoto had to perform the Mashō Rite, thereby allowing him to see Demons.[2]
Trivia
Quotes
References
↑ Ao no Exorcist Game: Blue Exorcist: The Phantom Labyrinth of Time
↑

Ao no Exorcist Manga: Chapter 2, Page 23