Monica Rain (モニカ・レイン Monika rein) is a character featured in Blue Exorcist: The Phantom Labyrinth of Time.
Appearance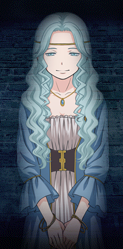 Monica is a young woman with long turquoise hair and eyes. She wears a thin band around her head and a jewelled necklace. She also wears a long blue and white dress.
Personality
Synopsis
Powers & Abilities
Trivia
References
Ad blocker interference detected!
Wikia is a free-to-use site that makes money from advertising. We have a modified experience for viewers using ad blockers

Wikia is not accessible if you've made further modifications. Remove the custom ad blocker rule(s) and the page will load as expected.