Mephisto Pheles/History
Talk

4
267pages on
this wiki
Nothing much is known about Mephisto's history, other than the fact that he was close friends with Shirō, and that he had ties with the Vatican for around 200 years.
In the anime filler, Mephisto claims that he had connections with an artificial life laboratory over 500 years ago, but stopped when the Vatican declared it illegal. He left it to his students, but there is a large gap between then and now.
A more recent development shows that he has been around as early as the Renaissance era, making him more than a thousand years old. He is shown talking with Faust himself about a gamble. Mephisto says that he will grant Faust eternal life, but, the moment the man wishes to die, his soul belongs to Mephisto. Mephisto later said that he eventually won the bet.
Beginning Arc
Edit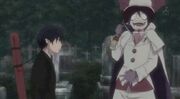 He was originally mentioned by Father Fujimoto as being the only contact on the cell phone Rin is given and would be willing to take him in. However, once word had reached the Order about Rin awakening his Demonic nature, Mephisto is dispatched along with other Exorcists to eliminate him; Mephisto appeaers to Rin after Father Fujimoto's funeral. He gave Rin three options, suicide, be killed, or commit murder by killing them to save himself. However, Rin didn't choose any of them. He instead demanded Mephisto allow him to join them to as Rin put it "Kick Satan's ass" to avenge Fujimoto. Surprised, Mephisto laughed at the idea and accepted it, much to the shock and displeasure of the rest of the Exorcists present. He allowed Rin to become an Exorcist.
True Cross Academy Arc
Edit
The next day Mephisto came for Rin in a pink limo, almost running him over. He took Rin and Yukio to True Cross Academy and revealed that Rin was also going to attend the school. When Rin finished his tour around the academy, he saw a dog who made Rin follow him. After they got out of the academy, the dog transformed into Mephisto and explained that the principal could not randomly walk around the school. He told Rin that he would accept him in True Cross Academy under one condition and that is to keep his identity as the son of Satan a secret and revealed that he would train as an Exorcist in cram school.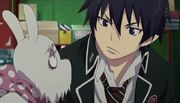 Mephisto then gave Rin a magic key so he could use any door get to his class. Mephisto then transformed into a dog again to accompany Rin on his first day in class. Then Yukio entered the classroom as their teacher and Mephisto explained to Rin about the Mashou (Demon wound), which all Exorcists require in order to see Demons, and stayed in the classroom the entire time to see what would happen between the two brothers when they started arguing. He then stayed around after Rin accidently made Yukio drop a vial of fermented animal blood that drew goblins to the classroom. Much to his amazement, Rin and Yukio worked together to slay the Demons (after the other students had been moved out of the room). He later told Yukio he was a bit "stiff" for teaching his first class. He then muttered to himself that Satan would make a move soon.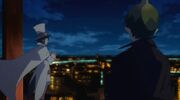 Later on, he is seen having a conversation with his brother Amaimon. They were talking about Rin and the rest of their family in Gehenna; Satan had accepted a proposal from Mephisto. He said that he will take care of their youngest brother, Rin. Amaimon then asks when he will return to Gehenna. Mephisto replies that he has a lot of work in Assiah. After Amaimon left, he said that this world was his biggest play toy.
Training Camp Arc
Edit
Mephisto appears half way through the arc floating above the forest with Amaimon,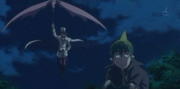 using his transformed umbrella to do so. Amaimon is there to yet again test Rin and talks about how he wants to kill the people below. Mephisto warns him that if he kills any of them he will kill Amaimon, making his brother restrain himself. He watches the battle from above until Rin and Amaimon get out of control and complains about what troublesome little brothers he has; they were causing property damage to his school, which was something Mephisto would not tolerate. He descends to the battle and summons a cookoo clock that he uses to imprison Amaimon. He vanishes the clock and then subdues Rin by sheathing the Kurikara. At this point the new Paladin,
Arthur Auguste Angel
, arrives and arrests Mephisto and Rin to bring them before the Grogori. Mephisto takes this lightly, changing into a respectible outfit before going with Angel to be tried.
In the anime, Rin destroys the clock allowing Amaimon to escape into the forest and Shiemi is responsible for stopping Rin.
Mephisto Trial Arc
Edit
Mephisto is brought before the Grigori and accused of betraying the Vatican by lying about the existence of Satan's sons, mainly Rin. As Rin is kept subdued by Arthur Auguste Angel Mephisto gives a speech about how it was done for good and that Rin may become the weapon the True Cross Order needs to switch to the offensive in the war against Satan. He asks the Grigori to take this bet with him. They agree to an extent, Rin must past the Exorcist exam in 6 months or be executed.
In the anime, Rin is imprisoned in a large crystal when Mephisto gives his speech and Amaimon attacks during the trial. Mephisto refuses to help until the Grigori agree to his terms on Rin. Rin in the mean time is revived by the repairs done to the Kurikara and defeats Amaimon, destroying his current body. Amaimon as he is defeated call for his brother, Mephisto, to help but Mephisto stares on impassively.
Filler arc (Anime Only)
Edit
Note: Events occurring in this arc are only in the anime and do not constitute canon material.
Click "show" to read the arc plot. 
Kyoto Arc
Edit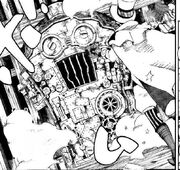 Mephisto appears briefly in the start of the arc to tell the Exwires they are going on a real mission. He does not reappear till after the Demon's revival. He shows up to capture Rin as per the orders of the Vatican, who have decided that Rin should be executed after having lost control of his flames again. He provides Shura with cloaks that turn the wearer invisible, implying the students are to save Rin. Rin is rescued from Mephisto's prison by his friends and heads off to battle the Impure King himself and prove to the higher-ups that he should be allowed to live.
Mephisto, apparently having planned this turn of events from the start, prepares to watch the ensuing battle from afar. When Rin kills off the Impure King, Mephisto laughs, saying Rin has become a Blue Exorcist. He later is seen talking with Yaozō and Shura, apologizing for not being there to help, and if Yaozō is called by the Vatican, to not hesitate to telling the truth. When he leaves, Shura attacks Mephisto, holding a blade to his neck, and demanding to know his plans. He then tells Shura to value her life, as it would be a shame if a beautiful woman died so young. Realizing what he is implying, she then leaves.
Demon Eater Arc
Edit
After Rin arrives for a dinner at his Mansion, Mephisto reveals that he have been called many things over the years, but his true identity is that of the Demon King of Time, Samael, who is second in command of Gehenna.