Mephisto Pheles
Talk

3
267pages on
this wiki
"
Dear me.. you've got too much tension in those shoulders, Mr. Teacher... You should try to enjoy life a little. And it's not just the order we have to content with... it won't be long before Satan makes his move.
"

—Mephisto after his talk with Yukio
Mephisto Pheles
Kanji

メフィスト・フェレス

Rōmaji

Mefīsuto Fēresu

Alias

The King of Time (時の王 Toki no Ō)

Characteristics

Race
Gender

Male

Height

6'5"

Weight

163 lbs.

Hair Color

Purple

Eye Color

Green

Professional Status

Affiliation
Previous Affiliation
Occupation

Exorcist
Principal of True Cross Academy
Demon King

Base of Operations

Exorcist Information

Class

Honorary Knight

Weapon(s)

Umbrella

Personal Status

Status

Active

Relative(s)

Satan (Father)
Amaimon (Brother)
Lucifer (Brother)
Rin Okumura (Half-Brother)
Yukio Okumura (Half-Brother)

Debuts

Manga Debut
Anime Debut

Portrayal

Japanese Voice

Hiroshi Kamiya

English Voice

Sam Riegel

Image Gallery
Mephisto Pheles (メフィスト・フェレス Mefīsuto Fēresu), whose real name is Samael (サマエル Samaeru), is an Exorcist and the second strongest of the Eight Demon Kings; he holds the title The King of Time (時の王 Toki no Ō).[1] He uses the name Johann Faust V (ヨハン·ファウスト Yohan Fausuto) in public and is the Principal of True Cross Academy. Following the death of Shirō Fujimoto, Mephisto takes it upon himself to enroll Rin in True Cross Academy.
Appearance
Edit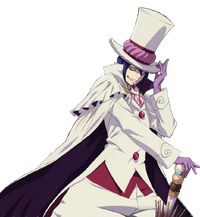 Mephisto has dark purple hair and forest green eyes. He is also tall, having a height of 195 cm (6'5").  He is usually seen in an elegant white outfit that consists of a white top hat with pink and purple around the base, purple gloves, a tie that is pink with white dots, a white suit-shirt and undershirt, jester-style pants, and pointed shoes. His appearance prompts Rin to refer to him as The Clown. As the series progresses, he stops wearing the jester pants and pointed shoes, instead wearing white dress pants and black shoes.
In addition, he can transform into a small white dog when he counts down from three in German (up to three in the anime). In this form he is a small, fluffy, Scottish terrier-looking dog with a large pink ribbon around his neck with a silver trinket attached to it, the trinket being the symbol of an Exorcist.
Personality
Edit
Shrouded in mystery, one quickly learns of Mephisto's innate ability to act as if he knows more than what he is letting on.  Careful and meticulous, he is like a chess player, always ahead of the game.
He also enjoys chaos, as he stated to himself that he was a hell-raiser, and Assiah to be his playground, though he does not wish to see anyone get killed, claiming that he himself would kill Amaimon if he ever tried to kill any of his students.  He apparently 'Loves' humans.  When Mephisto first meets Amaimon in the series, it is implyed he is conspiring with Satan and is most likely training Rin on his orders.  He likes to make gambles with whoever possible, including Fujimoto, Rin, and the True Cross Order.
He is prone to eccentric moments nestled in between serious moments, making light of a heavy mood and is portrayed as a man with more money than sense, but is very cheap when it comes to spending on others.  Like his brother he loves to eat sweets and he is deeply interested in the Japanese pop culture, proudly stating that he is an otaku.
Both his name and alias, Faust, are taken from German literature called Goethe's Faust in which the main character, Faust, wagers his soul with Satan.

Furthermore, the Demon Mephistopheles in Goethe's Faust is able to transform into a small dog too.

His real name, Samael, is an archangel in Talmudic lore who fell from heaven, and is also called an angel of death.
His average hours of sleep is 1 hour.
He is pretty good at party games, claw crane games and chess.
His pastimes and talents are: watching movies, reading manga, watching anime, playing video games, listening to music, toys, and subcultures.

All manga genres are his favourites.

His favorite food is junk food (mostly candy).
His favorite type of women are those who are temptresses, "devilish", or elegant/beautiful. In the Weekend Hero novel, he mentions also fancying "pretty girls with a sad past", as well as charismatic women.
His nicknames are Loki, Trickster, and Raven.
He has a frequent tendency of breaking the fourth wall by directly speaking to the reader.
(After his talk with Yukio Okumura) "Dear me.. you've got too much tension in those shoulders, Mr. Teacher... You should try to enjoy life a little. And it's not just the order we have to contend with... it won't be long before Satan makes his move."
(To Amaimon) "Having such a wonderful little brother fills my heart with joy."'
(Whenever the opportunity presents itself) "Drei, zwei, eins!" or alternatively "Eins, zwei, drei!"
(To Shura) "How old are you again? Please treasure your life. It would be a pity if a beautiful woman like you died at such a young age.".
(About Shura]) "...How lovely."
(About Rin) "It's the birth of a Blue Exorcist... whose self-imposed fate is to kill his own comrades."
(As Shura holds a blade to his neck) "That's a nice view.".
(After his talk with Amaimon) "For a prodigal son such as myself... This place is the greatest toybox I could wish for."
References
Edit
↑

Ao no Exorcist Manga: Chapter 39, Page 21