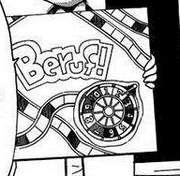 Mephisto's Game Beruf! is a cursed boardgame based on the Game of Life. It turned up in one of the classrooms where it was found by Konekomaru, Ryuji and Renzo.[1] When the game is played, each new profession is reflected on the player and the spinner will continue to move by itself until the game is over.[2] Even when the board is altered, the game changes to accomodate.[3]
Trivia
The game's title, Beruf! is German for The Professions!
Given it was found in the school grounds and is identified as belonging to Mephisto Pheles, it is possible the game is part of his prank collection.[4]
References
Ad blocker interference detected!
Wikia is a free-to-use site that makes money from advertising. We have a modified experience for viewers using ad blockers

Wikia is not accessible if you've made further modifications. Remove the custom ad blocker rule(s) and the page will load as expected.