Home
Talk

32
317pages on
this wiki
Welcome

Hello and welcome to the Ao no Exorcist Wiki, a wiki dedicated to the Ao no Exorcist series by Kazue Katō! We hope you enjoy our stay and help us by making new pages or contributing to the existing 317 pages we have here on the wiki!
Recent Manga Chapter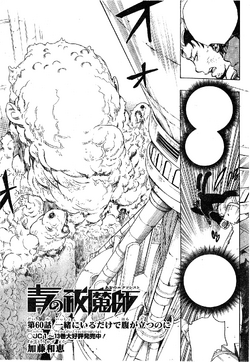 Chapter 60: Just Being With Them Makes Me Furious, Yet...
Hey, <insert name here>, spoiler alert! Read at your own risk...please. Also, don't assume that this is a correct translation of the chapter until further notice. Thank you.
---
As Rin and Renzo battle, the rest of the group attempts to flee from the enormous Zombie mutated by Gedōin. Elsewhere, Izumo performs the Divine Summoning ceremony to draw the Nine-Tailed Fox Spirit from her mother, in an attempt to assimilate it into her being and gain control of it. However, the beast proves too strong, and Izumo's body quickly begins degrading from its presence. As she struggles to retain her body and spirit, Izumo ponders all of her life's decisions, and comes to terms with her own feelings, recalling all of the precious people she had come to accept as her friends. Casting aside her pride and crying out for help, Izumo's efforts are rewarded by the arrival of an enraged Rin breaking through the chamber ceiling.
Read the full summary here.
Featured Media
Ao no Exorcist Movie
Ao no Exorcist movie is a movie based on the manga and anime series Ao no Exorcist, by Kazue Katō. The movie was announced to be green-lit on September 30th, 2011. The official release was confirmed to be December 28, 2012 in Japan.
New Characters
As far as we know there are two new characters introduced, Usamaro and Cheng-Long Liu.
The young demon Rin meets in the Phantom Train subjugation mission. Seems to be sealed in a shrine for unknown reason. Is looked after by Rin during the festival
Upper First Class exorcist from Taiwan branch. Comes to Japan to help True Cross Academy change a new barrier. From an elite family and has high exorcism skills.
For more information click here.
Ao no Exorcist Websites
Official Sites
General Sites
Affiliates
If you would like to become an affiliate of the Ao no Exorcist Wiki, contact an

Ad

min

.
Recent Blogs
Featured Picture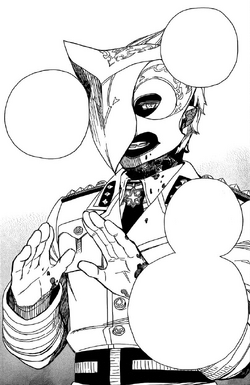 Featured Quote
"
We, the Illuminati, do not pardon those who seek to inhibit the success of our goal.
"
Featured Article
Lucifer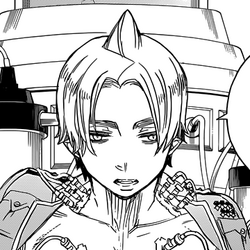 Lucifer is the King of Light, the most powerful Demon in Gehanna (besides his father, Satan), and the Commander-in-Chief of the Illuminati. His greatest desire is to create a perfect host body for his father and unite both Assiah and Gehenna into one plane of existence.(

more...

)
Poll
Do you think the quality of this wiki has improved in the last several months?