Home
Talk

32
313pages on
this wiki
Welcome
Hello and welcome to the Ao no Exorcist Wiki, a wiki dedicated to the Ao no Exorcist series by Kazue Katō! We hope you enjoy our stay and help us by making new pages or contributing to the existing 313 pages we have here on the wiki!
Recent Manga Chapter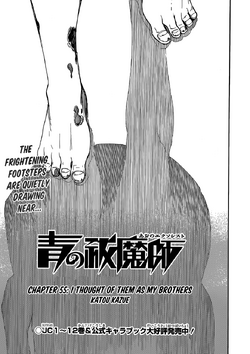 Chapter 55: Like Siblings
Hey, <insert name here>, spoiler alert! Read at your own risk...please. Also, don't assume that this is a correct translation of the chapter until further notice. Thank you.
---
The group discovers that what they have discovered is a
Zombie
, and as they deal with the one present, they discover that not only is it unable to be killed via conventional means, but also that more are coming after them;
Gedōin
watches from his lab and remarks on the power of his failed Elixir experiments. However, as
Rin
refuses to kill the Zombies as they are still technically human, the group is caught in an
Illuminati
trap and is separated. Meanwhile,
Renzo
has a brief skirmish with
Izumo
in which he not only defeats her, but also mercilessly kills her familiars,
Uke
and
Mike
. As
Lucifer
completely recovers from his illness and awakens, Rin finds himself having fallen into a pit full of Zombies. While he fumbles around in the darkness, hearing the Zombies come closer, he remembers Renzo's words on how to survive: be prepared to kill humans.
Read the full summary here.
Featured Media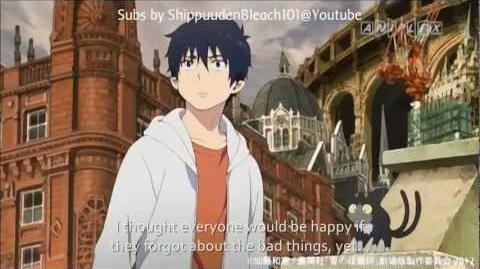 Ao no Exorcist Movie
Ao no Exorcist movie is a movie based on the manga and anime series Ao no Exorcist, by Kazue Katō. The movie was announced to be green-lit on September 30th, 2011. The official release was confirmed to be December 28, 2012 in Japan.
New Characters
As far as we know there are two new characters introduced, Usamaro and Cheng-Long Liu.
The young demon Rin meets in the Phantom Train subjugation mission. Seems to be sealed in a shrine for unknown reason. Is looked after by Rin during the festival
Upper First Class exorcist from Taiwan branch. Comes to Japan to help True Cross Academy change a new barrier. From an elite family and has high exorcism skills.
For more information click here.
Ao no Exorcist Websites
Official Sites
General Sites
Affiliates
If you would like to become an affiliate of the Ao no Exorcist Wiki, contact an

Ad

min

.
Recent Blogs
Featured Picture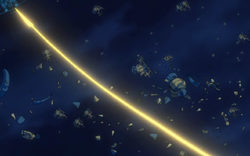 Featured Quote
"
For the traitor to be a saint like myself, I can't help but be angered. It is an honor to be called a saint. You had best prepare yourself.
"
Featured Article
Arthur A. Angel
Arthur Auguste Angel is the current Paladin of the True Cross Order. He comes off to his colleagues as rather dim-witted and goofy, but adopts a serious persona when need be. He is also extremely condescending and despises any and all Demons, which puts him at odds with the Vatican's decisions regarding Rin Okumura quite often. Despite appearances, Arthur is extremely strong and, together with his Demon Sword Caliburn, can destroy high-class Demons with minimal effort. (

more...

)
Poll
Do you think the quality of this wiki has improved in the last several months?