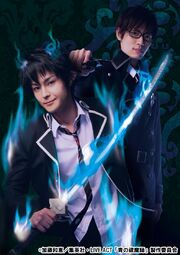 A stage play based on the series titled Live Act Ao no Exorcist ~Mashin no Rakuin~ run for nine performances at the Nippon Seinenkan hall in Tokyo's Shinjuku ward from May 11 to May 17 during 2012. Satoshi Owada directed and wrote scripts for the play. Main characters Rin and Yukio Okumura were portrayed by Ryou Kimura and Kimito Totani respectively.
Cast
Promotion Commercial
Trivia
The story of the LIVE ACT is yet unknown.
There seem to be no new characters that are introduced in the LIVE ACT.
Ad blocker interference detected!
Wikia is a free-to-use site that makes money from advertising. We have a modified experience for viewers using ad blockers

Wikia is not accessible if you've made further modifications. Remove the custom ad blocker rule(s) and the page will load as expected.