Joseph Yonemura (ジョセフ 米村 Josefu Yonemura) is a Middle First Class exorcist of the True Cross Order.
Appearance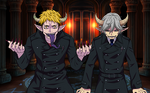 Joseph appears to be a young man with short grey hair with a fringe that hangs down between his eyes. He wears the typical exorcist uniform with a white shirt and blue tie underneath.
Personality
Synopsis
Meister & Abilities
Judging by his style of combat, Joseph is a tamer, skilled in the use of Chuchi.[1]
Spectral Awareness: As he is an Exorcist, Joseph had to perform the Mashō Rite, thereby allowing him to see Demons.[2]
Trivia
Quotes
References
↑ Ao no Exorcist Game: Blue Exorcist: The Phantom Labyrinth of Time, Chapter 7
↑

Ao no Exorcist Manga: Chapter 2, Page 23
Ad blocker interference detected!
Wikia is a free-to-use site that makes money from advertising. We have a modified experience for viewers using ad blockers

Wikia is not accessible if you've made further modifications. Remove the custom ad blocker rule(s) and the page will load as expected.