Izumo Kamiki
Talk

0
267pages on
this wiki
Izumo Kamiki
Name
Izumo Kamiki
Kanji
神木出雲
Romanji
Kamiki Izumo
Characteristics
Race
Human
Birthday
October 11th
Age
16
Gender
Female
Height
167 cm (5'6")
Weight
49 kg (108 lb)
Eyes
Red
Hair
Dark purple
Blood Type
A
Professional Status
Affiliation
Exorcists
Personal Status
Status
Alive
Exorcist Status
Class
Exwire
Meister Type
Tamer
First Appearance
Manga Debut
Chapter 2
Anime Debut
Episode 3
Voices
Japanese Voice
Eri Kitamura
"
Hold it. Friends help each other, right? You should understand.
"

—Izumo to Shiemi
Izumo Kamiki is a female student at the Exorcism Cram School. Strong-willed, and something of a "tsundere (hot/cold personality)". She comes from a long line of shrine maidens, and was born with Heian Period noblewoman-like eyebrows. Although a top student, she is quite condescending towards her classmates, both in actions and words.
Appearance
Izumo has dark red eyes and long dark purple hair, which she usually keeps in a twintails or a ponytail hairstyle. Her most notable trait would be her small, oval shaped eyebrows, which is why Rin Okumura calls her by the nickname Eyebrows. Her outfit is primarily the school uniform.
Personality
Izumo maintains a very tsundere attitude most of the time, though it's mostly tsun and less dere. She is very cold and condescending towards those around her except for her friend Paku. She takes advantage of Shiemi, when Shiemi asks to be her friend, by essentially making Shiemi her servant. Paku, distraught that Izumo was taking advantage of an honest person, finally admitted to Izumo that she does not consider Izumo to be a true friend. However, she does occasionally show kindness. She was the first Exwire to accept Rin after learning that he was the son of Satan. She sat next to him on the train to Kyoto when no one else would. In the anime, she encouraged him on his candle training when he was frustrated.
History
Not much is known but Izumo encountered and befriended Paku when she was in elementary school. Apparently Izumo had attained a Mashou at a very young age and was constantly scared by the demons. The other children made fun of her and thought she was weird because of her 'outbursts' whenever she saw a demon. They talked about her both behind her back and even right in front of her. When she met Paku, Izumo was holding a big stack of books and Paku offered to help her. Izumo told Paku that she shouldn't since other people would make fun of Paku if she helped. Paku didn't care and helped her anyways.
In a short scene in the manga and anime, there is a hint as to why she wants to become an exorcist. The scene showed Izumo holding onto someone (possibly her sister) while looking at someone else. It shows her looking at a woman (quite possibly her mother by how similar she looks compared to Izumo) with an evil smile and fire in the background, indicating something very large burning to the ground.
It is possible that Izumo also lost relatives on the Blue Night. She notes that she comes from a long line of shrine maidens, so it's also possible that the shrine she was born to was destroyed by Satan or likewise demons.
Plot
True Cross Academy Arc
Izumo is officially introduced chapter when Shiemi intends to make friends with her and Paku. When Shiemi tries to talk to her and falls down in the process, Kamiki simply leaves and calls her lame. During the Magic Circle Class, the class is explained the basic requirements needed to become a Tamer and are afterwards, welcomed to find out if they have what it takes. Kamiki easily summons two Byakko spirits (fox like creatures), which earns her praises and jealousy from the others. Kamiki is also shocked when she realizes that Shiemi also possesses the talent to summon a familiar.
Shiemi once again tries to be her friend, by 'stalking' her and calling out Izumo's name, agitated by this, Izumo finally accepts her, only to make Shiemi her slave. Kamiki even goes as far as to prevent Shiemi from going with her and Paku in the baths, claiming that if she was her friend she would understand. That behavior made Paku disappointed, so she told Kamiki how mean she was, which made Kamiki very upset. When the two of them are suddenly attacked by a Ghoul, Paku gets severely injured so Kamiki tries to protect her by summoning her familiars.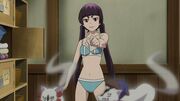 Unfortunately, instead of listening to her orders, they turn against her because of her confused feelings. Both Shiemi and Rin heard their screams and run to rescue them. When Rin arrives, he sees that the two Byakko spirits are about to attack Kamiki, but he manages to fend them off. He then tells Kamiki to rip the paper apart she has used to summon her familiars so that they would disappear. Shiemi arrived soon after and told Rin to keep the Ghoul busy while she tends to Paku's wounds. After everything was over, Rin finds her hiding and crying because she felt useless for not being able to protect Paku. Rin offers her his shirt and tells her to hurry up and go. She later thanks Shiemi for helping Paku and stops making her her slave.
The next morning, Izumo appears shortly after Rin to get ready for her day, she greets him and then goes back to her tsundere attitude telling him to tell no one that she cried. After cold conversation, Izumo gives back Rin's shirt. Rin comments that Izumo is not really a mean girl at all, an act which makes her blush in denial, stating that Rin's shirt was too dirty and had to be cleaned.
Exwire first mission arc
Izumo and her classmates Rin and Shima are sent for their first mission as Exwires to a coast town afflicted by the presence of a Kraken whose ink blackens the sea. Izumo stumbles upon a boy, Yohei, whose father went to sea to face the Kraken six months before and is still missing.After telling Izumo she's cute, she takes an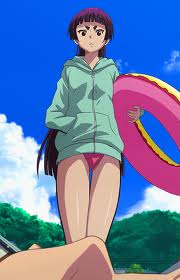 interest in Yohei. The ExWires are ordered to watch over Yohei before he exacts his revenge, believing he is no match. Izumo volunteers to watch the boy while Rin and Shima encounter the Kraken. Afterwards, Izumo, Rin, and Shima wait for the bus to take them home when Yohei comes with his dog to bid them farewell. Izumo discovers to her dismay that she was cute to Yohei for she reminded him of his dog (who has the same eyebrows as Izumo).
Training Camp arc
Izumo and Shiemi draw the magic circle as they watch the boys build their tents, as Rin gets hyper and repeats that the event was like a picnic, he pounds on the tent and breaks it. Shiemi, being rather anti-social for the most of her life, commented on boys being 'weird'. Izumo takes a comeback and says that Shiemi is the only weird one present.
Remembering that Shiemi came up to Izumo and Paku despite Izumo scolding her. As Shura sits on the tree playing her PSP, she asks the girls if they are done with the drawing, Izumo then also badmouthes Shura as she was supposed to also join in with the painting.
Concluding the painting, the girls were to continue on by cooking dinner. Izumo being not a very good cook, cuts herself making Rin frustrated, and he cooks instead. Izumo is again seen with the crew to be amazed by Rin's cooking skills.
As the exam was about to commence, Izumo commented that she liked the way how there were only 3 lanterns making everyone turn against each other. During the exam, she comes along a whole nest of moths and summons Uke and Mike to help. Back at the camp, Izumo is seen with a lit lantern.
Mephisto's Trial arc
Filler arc (Anime Only)
Note: Events occurring in this arc are only in the anime and do not constitute canon material.
Click "show" to read the arc plot. 
Impure King arc
Izumo appears sitting next to Rin on the Shinkansen surprising him as he thought everyone had lost his trust as he was Satan's offspring. He asks Izumo whether she is afraid of him, Izumo replies to the fact that there are many demons in this world (probably also referring to herself) and that she's not afraid of him and scolds him to not
make a mountain out of a molehill
.
Powers & Abilities
Tamer
She is shown to be a capable Tamer, being able to summon two Byakko, named Mike and Uke. She had accredited her natural talent for her relation to a miko. This means she has exceptional spiritual fortitude, as Igor said its essential to control familiars.
Her knowledge and use of her familiars' skills is also impressive. She can use them to fight but she can also use them to summon sacred wine and fend off a mid-level ghoul summoned by Igor. Ukemochi was seen to have the ability to morph into a bowl and pour out sacred sake which has the effects of holy water and put out
Rin Okumura
's flames
She can also summon the smaller, chibi-like siblings of Mike and Uke named Miketsu and Ukemochi siblings. She claimed they are strong despite their size, and, supposedly, carried the peg lantern in the exam. With the help of her familiars alone, she was able to pass the exorcist exam alone while all the others had to team up to pass.
Techniques
Ama no Kamiki - Uke morphs into a sacred bowl and pours out sacred wine, which has similar effects of holy water.
Relationships
Noriko Paku
Paku was the first and only friend Izumo had. Both regard each other as best friends, although Paku disliked it when Izumo used Shiemi. Izumo was depressed by the fact that Paku quit the cram school, but they would later rekindle and remain close friends. She is quite protective of her friend when it comes to Shima hitting on Paku.
Rin Okumura
Rin refers to Izumo as "Eyebrows". Izumo was one of the few people who didn't blame Rin for being Satan's offspring. There might be a slight chance that Izumo has a crush on Rin, but this hasn't been stated directly yet in the anime or manga. Izumo blushed when Paku commented on Rin being cool and handsome, and she told her to change the subject. She blushed yet again when Rin complimented her. This leads to the belief that she indeed has a slight crush on Rin, but due to her 'tsundere' personality, denies it.
Shiemi Moriyama
Shiemi always wanted to be Izumo's friend, but Izumo took advantage of her and made Shiemi into an errand runner at first. The two would later become friends, with Izumo even comforting Shiemi when she was feeling down. However, Izumo still denies that she is friends with Shiemi, always stating that she hates her. In Izumo's eyes, Shiemi is a weird person who is not afraid to seek what she wants.
Ryuji Suguro
Izumo and Bon are not in good terms. The two constantly fight, and Izumo views Bon as an egotistical attention seeker who loves to show off. She furthermore insults him, and in return Bon threatens her physically, but Rin stops the two just in time. Despite all of this, Izumo summons her familiar during the training camp against the demon, and she tries to save her classmates, including Bon who was the one mostly in danger. This proves that she can cooperate with others every once in a while.
Renzo Shima
Izumo finds Shima distracting and annoying. She can be quite bossy around him sometimes, as shown in the beach mission which was handled by the two along with Rin. Shima continuously asks Izumo for her phone number, but never succeeds. He even asked her out once, but she flat out rejected him, and so he never dared to confront her about it again.
Trivia
Her pastimes and talents are: collecting clothes and trinkets, studying, reading girls' manga & novels and going shopping.
Izumo hates the way she gets a crease between her eyebrows when reading, studying, or thinking hard.
Her average bath time is 50 minutes.
Her favorite music genres are: Pop, Rock and Japanese.
Her favorite words are: "Evening calm".
She spends her days off reading fashion magazines, girls' manga, novels, and going shopping.
In the special episode 'Kuro no Lede' and the 7th anime omake, Izumo has shown a great love of cats. Whenever she encounters Kuro when she is alone, she blushes and fusses over him: feeding, petting, and attempting to play with him.
Quotes
(To Shiemi Moriyama) "Hold it. Friends help each other right? You should understand"
(While Summoning) "稲荷神(いなりのかみ)に 恐(かしこ)み 恐(かしこ)み白(もう)す 為(な)す所(ところ)の願(ねが)いとして 成就(じょうじゅ)せずということなし!" "I humbly call the Gods of Harvest. Follow my wishes, leave none unfulfilled!"
References