In My World (Single)

Info
Title
IN MY WORLD
Release Date
August 24, 2011
IN MY WORLD a single release by ROOKiEZ is PUNK'D containing the 2nd opening theme of the Blue Exorcist anime series. It was released in 2 editions: an Anime Edition with a Blue Exorcist-themed digipak and a Regular Edition. Production of the Anime Edition of the single ran until September 30th, 2011 only. The Anime Edition also included a tarot card randomly selected from 1 of 3 designs featuring Chibi Eku (ちびエク) versions of Rin Okumura, Shiemi Moriyama, or Shiro Fujimoto.
The Anime Edition includes the TV SIZE version of IN MY WORLD, the shorter version of the song that was used in the opening credits video for the second part of the First Season, and the Ao no Honoo Edition (青の炎EDITION), which is a remixed version of IN MY WORLD featuring excerpts of Yukio Okumura's voiceover by Jun Fukuyama and Rin Okumura's voiceover by Nobuhiko Okamoto from the anime.
The TV SIZE version of IN MY WORLD was also later included in BLUE EXORCIST ORIGINAL SOUNDTRACK 2 as track #19.
Anime Edition Information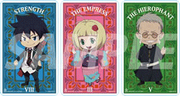 Record Label

DefSTAR RECORDS

Catalog Code

DFCL-1791

Price

¥1,300
Anime Edition Tracklist
D×H×C×T
IN MY WORLD -青の炎EDITION- IN MY WORLD -Ao no Honoo EDITION-
IN MY WORLD -TV SIZE OPENING VER.-
IN MY WORLD -INSTRUMENTAL-
D×H×C×T -INSTRUMENTAL-
Trivia
IN MY WORLD is ROOKiEZ is PUNK'D's 4th single in their discography.
First Pressings of the Regular Edition of the single came with a Blue Exorcist wide cap sticker.
IN MY WORLD was later included in ROOKiEZ is PUNK'D's 1st studio album entitled From Dusk Till Dawn as track #2.
External Links
Ad blocker interference detected!
Wikia is a free-to-use site that makes money from advertising. We have a modified experience for viewers using ad blockers

Wikia is not accessible if you've made further modifications. Remove the custom ad blocker rule(s) and the page will load as expected.