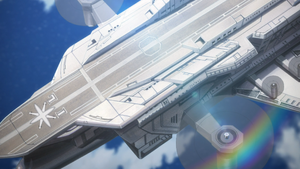 The Dominus Liminis, is an extremely large airship, constructed by the Illuminati at the North American laboratory. At this time, it seems to serve as a mobile headquarters. It has a similar resemblance to an aircraft carrier, with the Illuminati emblem emblazoned on the forward and mid-ship sections of the main deck. [1]
References
↑

Ao no Exorcist Manga: Chapter 64, page 14
Ad blocker interference detected!
Wikia is a free-to-use site that makes money from advertising. We have a modified experience for viewers using ad blockers

Wikia is not accessible if you've made further modifications. Remove the custom ad blocker rule(s) and the page will load as expected.