Byakko
Talk

0
267pages on
this wiki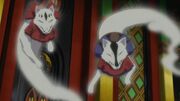 Byakko are the confined Familiars of Izumo Kamiki.
Appearance
Edit
Byakko, normally used as messengers to the gods, can be many different animals.
Izumo's Byakko familiars possess the appearances of typical white foxes, with exceptions of distinctive markings on their faces and long tails. One has a red bow tied around its neck while the other wears a blue hood.
Personality
Edit
They are not always obidient and will easily go against their summoner if the summoner has lost faith, confidence and so on. They are very proud spirits and hence they often get into an arguement with Izumo. However, they are pleased by offerings such as paddy crops from honest people like Shiemi.
Powers & Abilities
Edit
Ama no Omiki
Edit
Ukemochi (blue-hooded) was seen to be able to morph into a bowl and pour out sacred sake. This has the effects of holy water and put out Rin Okumura's flames.
"Take an Arashine into your hands and cleanse it, take a Nigoshine into your hands and purify it, to make eight servings of Sacred Wine, at the peaceful, gentle sound of Yahirade, HEAR ME GOD!"
During the ressurection of the Impure King , Izumo through the Byakko summoned chibi-like versions of themselves.
The official Blue Exorcist website has revealed that the names of Izumo Kamiki's two Byakko familiars are Uke (the one that wears the Chinese hat & blue cloth) and Mike (the one with only the red bow around its neck).
References
Edit