Ad blocker interference detected!
Wikia is a free-to-use site that makes money from advertising. We have a modified experience for viewers using ad blockers

Wikia is not accessible if you've made further modifications. Remove the custom ad blocker rule(s) and the page will load as expected.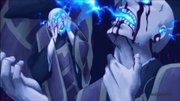 The Blue Night was an event sixteen years ago when Satan killed powerful holy men and Exorcists the world over by attempting to possess their bodies.[1] The true motives behind this night are addressed in the anime as Satan's attempt to rescue Yuri Egin from being burned at the stake.[2]
Repercussions
The Blue Night caused massive upheaval in the Exorcist community among others, becoming common knowledge amongst those affiliated with demons and organisations who deal with them. Just some of these consequences are listed below.
Organisation Changes
The Myōō Dharani sect, after having many of its monks and priests die simultaneously, became known as the cursed temple, leading many of their followers to flee and abandon the sect.[3] This forced them to allign themselves with the True Cross Order in order for their sect to survive.[4] Other sects saw a similar exodus in the wake of the Blue Night, though details of the effects on these groups are scarce.[5]
Injuries
Despite the fatal nature of being possessed by Satan, not all victims of the Blue Night died, nor were all those possessed mortally wounded.
Deaths
Of those killed during the Blue Night, not all were a direct consequence of possession.
References