Astaroth
Talk

0
313pages on
this wiki
Astaroth
Kanji

アスタロト

Rōmaji

Asutaroto

Alias

The King of Rot (腐の王 Kusa no Ō)

Characteristics

Race
Gender

Male

Professional Status

Affiliation
Occupation

Demon King

Base of Operations

Personal Status

Status

Active

Debuts

Manga Debut
Anime Debut

Portrayal

Japanese Voice
English Voice
Image Gallery
Astaroth (アスタロト Asutaroto), also known as The King of Rot (腐の王 Kusa no Ō), is one of the Eight Demon Kings. In a bid to return Rin Okumura back to Gehenna, he possessed Reiji Shiratori, the leader of a delinquent gang.
Appearance
Edit
Minor form
Edit
Astaroth looks like a possessed human with the additional features of goat-like spiral horns, longer and sharper nails, canine like teeth, red eyes, a Demon tail, and a longer tongue.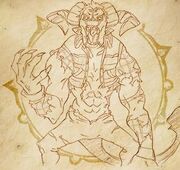 Major form
Edit
In his full form, Astaroth's appearance becomes much likely a stereotypical Demon (with goat like characteristics like having rounded horns and standing on two goat-like lower limbs). He becomes bigger, his skin turns a dark red colour, possesses claws, his horns become much bigger, his eyes turn completely red, and his teeth become battered. This form only appears in the anime.
Personality
Edit
True Cross Academy arc
Edit
The Demon makes his debut in the first events of the series, possessing the student
Reiji Shiratori
, whom
Rin
had previously gotten into a fight with. After goading Rin into another fight, his companions (who are unaware of Reiji's possession) jump and manage to suppress Rin. Despite his companions' uneasiness, the Demon proceeds to draw a knife (a hot metal rod in the anime).
Fearing for his life, Rin unconsciously lets loose his blue flames for the first time, proving to the Demon that he was the son of
Satan
whom he sought. However, before he is able to bring the "young lord" back to
Gehenna
, Father
Fujimoto
appears and swiftly defeats the Demon via an
Aria
chant, thus freeing Reiji from Astaroth's possession.
In the anime, the Demon introduces himself as Astaroth, the King of Rot. After his quick defeat at the hands of Rin's foster father, Astaroth manages to repossess the body of Reiji, leading to a second engagement, this time inside the church. Despite falling to the use of his "major" form, the second battle also fails to go in his favour and after the brief skirmish with the Paladin, Rin and several other Exorcist that resided in the church, the Demon who called himself Astaroth, is once again banished from Reiji Shiratori's body
Powers & Abilities
Edit
He is a powerful Demon capable of possessing humans and has shown control over Coal Tars, Ghouls, and demonic mushrooms. He has shown extreme power and durability by being run over by a truck, surviving, and punching the driver against a wall.
Astaroth, in Demonology, is a Demon of the First Hierarchy, who seduces by means of laziness, vanity, and rationalized philosophies.
References
Edit