Arthur Auguste Angel
Talk

1
267pages on
this wiki
Arthur Auguste Angel
Kanji

アーサー・オーギュスト・エンジェル

Rōmaji

Āsā Ōgyusuto Enjeru

Characteristics

Race

Human

Gender

Male

Age

30

Height

6'1"

Weight

174 lbs.

Birthday

December 1st

Hair Color

Blond

Eye Color

Blue

Professional Status

Affiliation
Occupation
Team

Angelic Legion

Partner(s)

Exorcist Information

Class

Paladin
Upper First Class Exorcist (former)

Meister

Knight

Weapon(s)

Personal Status

Status

Active

Debuts

Manga Debut
Anime Debut

Portrayal

Japanese Voice

Daisuke Ono

English Voice

David Vincent

Image Gallery
Arthur Auguste Angel is an upper first class Exorcist and the newly appointed Paladin of the True Cross Order. He was ordered by the Grigori to interrogate Mephisto and capture Rin as evidence.
Appearance
Edit
Angel has long blonde hair tied in a pony tail, with a communicator in his ear, though it is unclear whether or not he wears it all the time. He carries his claymore on a strap on his right hip and wears a custom made white suit and coat.
Personality
Edit
Not much is known about Arthur so far, except that he is extremely loyal to the True Cross Order. He follows the orders of his superiors without questioning them at all, even attempting to kill people when they interfere with his work. He believes that anything related to Satan must be destroyed, as it could only cause harm to let them live.
Arthur seems to be slightly sadistic, as he needlessly stabbed Rin through the leg to immobilize him during Rin's trial, while remarking that the wound would heal soon enough. According to Shura, he is a saint on the outside and a devil on the inside, hinting that he may have a malicious personality.
He appears to be rather dense as he merely laughed at Shura's insult calling it meaningless and said that his suit was custom-made when Rin called it ugly, both without even frowning.
Training Camp Arc
Edit
After Rin's fight with Amaimon, Arthur suddenly appears before the first year class and reveals that the blue flames before them were a sign of Satan himself. He attempts to kill Rin, but Shura protects him and tries to fight her superior, though she is easily captured by Arthur, as he grabs her arm and immobilizes her. He asks her why she wants to save Rin, though she merely insults him.
Mephisto Trial arc
Edit
After Arthur gets a new order through his communicator, he takes
Mephisto
, Shura and Rin to the True Cross Order. There he accuses Mephisto of lying and being a traitor, though he fails when the Council accepts Mephisto's gamble of turning Rin into a weapon against Satan.
Filler arc (Anime Only)
Edit
Demon Eater Arc
Edit
Arthur is seen easily defeating the powerful Impure Princess, who has powers similar to the Impure King. He voices irritation over the fact that he (Arthur) was not called upon to defeat the Impure King, and Rin was the person who defeated the Demon. He also encounters a woman responsible for unleashing the Impure Princess, the women then dies from having eaten the heart of the Impure Princess. He reports the incident about the Impure Princess and its similarities to the Impure King to the Vatican. The Vatican decides to monitor "Demon eaters" and other similar cases, as well as to postpone Rin's execution until further notice. Afterwards he and several other Exorcists discover an artificial Gehenna Gate, and ask Mephisto if he can close it. Mephisto states that he can slow the time of opening but cannot close the gate permanently. Arthur and his subordinates speculate who could open the Gehenna Gate other than Satan himself and decides it must be the work of a mysterious organization known as the Illuminati.
Powers & Abilities
Edit
Despite not being seen in combat, it can be assumed that Arthur is extremely powerful, as he was given the rank of Paladin, which is the title only the strongest Exorcist in the world can hold. His power is hinted at when he was quickly able to overcome
Shura Kirigakure
, one of the most powerful Exorcists seen in the series so far. He also seems to possess some form of high-speed movement or teleportation which allows him to instantly close the distance between himself and an opponent.
He wields a Demon sword, named Caliburn, indicating that he obtained a Meister as a
Knight
.
Zodiac Slash
Edit
The Zodiac Slash is a move that Arthur uses Caliburn with. In this move, he shouts the name of the attack, then jumps into the air in a stream of light shaped like his sword. He moved at a high speed upwards into the air, slicing almost everything in his path. However, it seems to lose power as he goes higher as, after a while, he was stopped by a Demon with a staff.
Angel Slash
Edit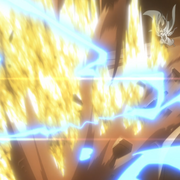 Angel Slash is a strong technique that produces a large, sword-like projectile made of energy. To perform it, a trade is made between Arthur and Caliburn (the price being a lock of Arthur's hair). Arthur pays the price and pulls the Caliburn back, then swings. The projectile is launched from the swing of Caliburn and trusts forward to it's target. It has proven to be a very strong attack, as it severed the
Impure Princess
in one attack.
[1]
References
Edit
↑

Ao no Exorcist Manga: chapter 38, page 23